Meet the Director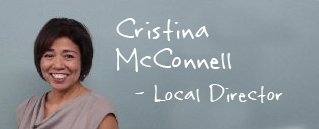 Cristina came to Christ in 1995 at the age of 38. Over a five year period, Cristina had watched her 10 year old brother pray and attend Release Time, Good News Club and church faithfully. Her conversion created a rapid change in her life. Within three months she was asked to teach Bible stories at the L.A. County Fair where she met the CEF team. Shortly after she was invited to manage the Children's Ministry Resource Bookstore, which at that time was in a small storefront on Woodruff Blvd. in Bellflower. The following year and after much praying and training Cristina began teaching Good News Clubs, Party Clubs, 5-Day Clubs, Chapels and eventually Weekend Family Retreats.
Excited about her new life in Christ, in 1997 Cristina enrolled in Bible College nights and continued for the next six years. In 1999, a Pastor from a local church came to the CEF office, and declared that the Holy Spirit had led him to Cristina to become Director of Children's Ministry. Cristina worked with the children and teachers at that church for six years while continuing her missionary calling with Child Evangelism Fellowship and attending Bible College.
Many great opportunities continued in Cristina's life while growing in Christ. In 2005, after completing Bible College, she attended CEF's Children's Ministry Institute and received the Leadership Training required to qualify as an Instructor of Teachers and Missionary Director. In 2007, she became the Missionary Director and married Reverend Randy McConnell. Since 2007, the Greater Long Beach Chapter After-School Good News Club (GNC) program has grown from one GNC in the public schools to 18. Reaching thousands of children through the efforts of volunteer teachers, helpers, prayer partners and financial supporters, the Greater Long Beach Chapter continues to thrive as God leads Cristina in the ministry of Child Evangelism Fellowship.